About Lunetta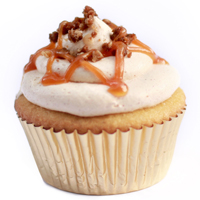 Lunetta is actually the expression of baking with love, focusing on those tempting, mouthwatering and irresistible cupcakes! Lunetta is located in Jakarta. It is cupcake from Jakarta.
We are so in love  with these cute cupcakes simply because of that moist  texture, that sweetness , and  that beautiful looks. In Lunetta kitchen in jakarta, we are trying to please our customer by making the cupcake to indulge your taste.   But, we don't really make  lots of flavor , instead we only focus our cupcake recipe on the best flavors such as chocolate, vanilla, strawberry and  red velvet. In order to spoil  our customer, we enrich these flavor with lots of variant toppings and filling. Let us tell you some secret, the best way to enjoy our cupcake is by eating it all together along with its  topping in one bite .
Our cupcake is baked fresh everyday, because we make them by order.  Don't worry about the quality of our cupcakes,  it is from the best cupcakes recipe and made from premium  ingredients, one of the finest butter, good chocolate,  fresh fruits, less sugar  and and most important is we are not using preservatives.
We bet you agree that cupcakes can be such celebration in every occasion.  You don't need special day to enjoy cupcakes. When you  feel happy inside, when you feel like to throw a party, even when you only want to relax at home alone,with Lunetta cupcakes  Jakarta, we love to  share happiness  with our cupcakes.  Hope your day can be this good or even better!