Welcome the Chinese New Year of the monkey with Lunetta Cupcake Special Hamper!
Let's celebrate the big festive  by grateful and wishes for the fruitful and prosperous for new year ahead.  Share the happiness with your loved ones, relatives, business partner or your family, with our special hamper.
Lunetta offers two size cupcake package: Regular and Minicupcakes. Our seasoning flavor for Chinese New year,  Vanilla Orange  with fresh mandarin orange is back! This is even more special, with new flavor coming, Peanut Butter Jelly Cheese Cake.
Only for this month. To order, please click Order FORM  or contact us at SMS/WA 081318984452. Order Now!
CNY Hamper
1 box of 12 Regular cupcakes gets 6 flavors (Vanilla Orange, Choco peanut Butter -filled caramel, Red Velvet,  Choco Monster, PB jelly Cheese Cake, and Choco Marshmallow), FREE 2 Lunar year topper, 2 gold coin chocolate and 1 card – only IDR 280,000.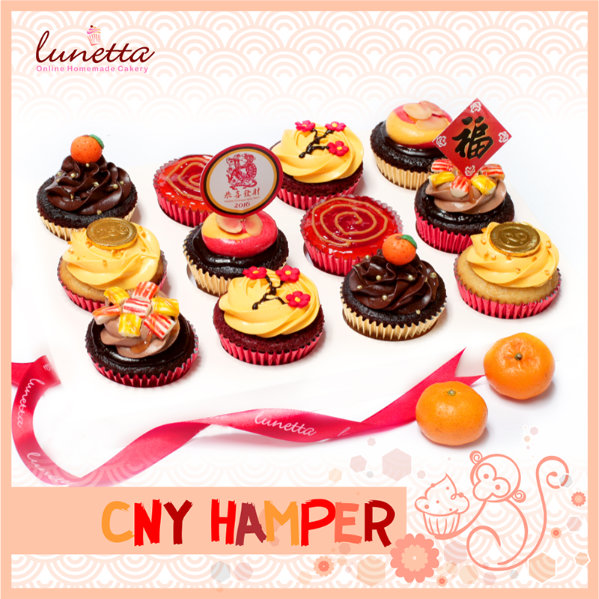 CNY Mini Hamper 
1 box of 16 Mini cupcakes gets 5 flavors ( Vanilla Orange,  Red Velvet , Choco Monster, PB jelly Cheese Cake, and Choco Marshmallow), FREE 2 Lunar year topper, 2 gold coin chocolate and 1 card – only IDR 250,000